Does Bra Choice Matter After Augmentation?
Posted June 12, 2018 in Birmingham Breast Augmentation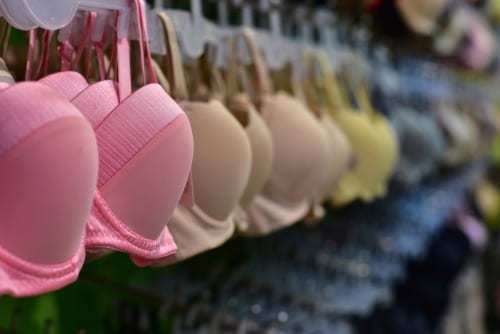 Going bra shopping for the first time after breast augmentation surgery is an exciting and fun experience for women. It is the first time they can find a perfect bra to help accentuate their newly enhanced breasts.
Many women want to rush to pick out a new bra and lingerie wardrobe, but taking the time to learn about what makes the perfect bra will help you make the most informed decisions.
Support Is Everything
Following your surgery, you will be outfitted with a "surgical bra" to wear before switching to a more supportive bra. These types of bras will provide the necessary support and comfort while you heal and your implants settle in place. In most cases, you shouldn't even consider wearing a regular bra until several weeks after your surgery.
Many women find they have to adjust the way they shop for bras in Birmingham, Alabama following their enhancement surgery. As breast augmentation surgery involves increasing the size of the breasts (and therefore weight of the breasts), you will need to find a bra with adequate support. If you are a woman who started with an A or B cup size, you may not completely understand the immense importance of quality support.
A supportive bra will be your best friend. Not only will the bra provide comfort, but it will help keep your breasts looking good for years to come by providing the amount of support that a larger breast needs. Larger, heavier breasts are more prone to breast ptosis (breast sagging) when compared to smaller breasts. And while gravity will affect all things in time, maintaining a lifted, perky appearance to your breast can be assisted with the correct type of support. Find a bra that has good support along the fold and gives your breasts a lifted, supported feel. Sports bras are less ideal than a supportive non-sports bra, because they tend to compress your breasts together and give less support than more fitted bras with a good elastic band/underwire support.
Don't Replace Bras All at Once
Even though you can begin to ease back into a regular bra after several weeks, it is a good idea to refrain from replacing your entire bra collection in one spree. While your incisions may be healed at this time, the size of your breasts six weeks after the surgery may not be the same size six or 12 months later. Due to swelling and the setting of implants, recently modified breasts can fluctuate in size up to one year after your surgery.
Bras can be expensive; there is no reason to rush out to purchase bras that may be too big or too small for you six months from now. It is best to buy one or two at a time until your breasts have finished changing.
When you do shop for a new bra, it is wise to consider getting a professional fitting for your new breasts to know what size band and cup will give you the best support. Every bra will fit and feel different; you need to make sure you select one that will be comfortable, supportive, and doesn't put unnecessary strain on your shoulders. While this may mean some investment in time and store selection, you will be thankful for the extra effort put forth on this important aspect down the line.
For more information on breast augmentation, contact Dr. Cohn in his Birmingham, Alabama office at 205-590-9900.