Face Skin Tightening: Surgical Vs. Non-Surgical Solutions
Posted November 02, 2023 in Facelift, Skin Tightening
The aging process affects people differently, but most experience similar concerns about wanting to avoid looking old and exhausted. Volume and elasticity loss both reveal common signs of aging, including skin laxity, sagging, creases, and wrinkles.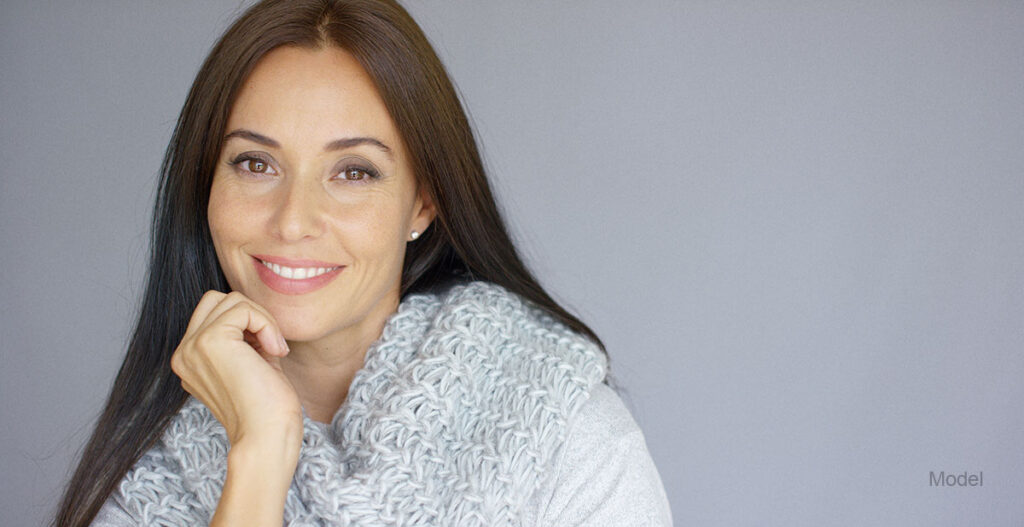 Some surgical and non-surgical options can counteract aged skin. But what is best for you? Below, we will discuss various treatments and procedures that can help tighten, lift, and contour the face for a youthful and vibrant appearance. 
Facelift Surgery
Facelifts are truly the ultimate facial rejuvenation procedure: by tightening, lifting, and removing excess skin, patients can enjoy long-lasting, dramatic results.
Your Facelift Options
Like most plastic surgery procedures, the facelift allows for variation in what treatment area, incision type, and targeted results the patient can expect.
Traditional Facelift: a traditional facelift aims to rejuvenate and lift the whole face. As this method targets the entire lower face, a longer incision is required that will run through the hairline, behind the ears, and end below the lower scalp. This method will lift and tighten the underlying facial tissues before trimming excess skin.
Limited Incisions Facelift: the limited incision facelift requires shorter incisions than the traditional method for a more moderate facial rejuvenation. These incisions are placed at the temples and around the ear, with most of the procedure focusing on the midface.
Neck Lift: While not technically a facelift, a neck lift is an excellent option for an area of the body that tends to show some of the most apparent signs of aging. Whether performed as a stand-alone procedure or in conjunction with a facelift, a neck lift targets sagging or aging skin around the jawline, neck, and chin.
The Pros and Cons of Facial Surgery
The benefit of facial plastic surgery, be it a facelift or a neck lift, is that the results are dramatic, long-lasting, and applicable for patients with more moderate to severe facial aging. With facelift surgery, you will enjoy immediate, stunning results for many concerns, including severe skin laxity and creases.
However, surgery requires recovery, downtime, and the potential for scarring. Any time an incision is made, there is a possibility that you will have a scar. While a skilled plastic surgeon will make these incisions as discreet as possible, some patients are reluctant to run that risk.
Facial surgery is also often reserved for patients with more moderate to severe concerns. So, if you only have minor facial aging, you may want to consider a non-surgical option.
Non-Surgical Skin Tightening with FaceTite® and AccuTite®
Just because you don't have severe concerns, or you might not want to undergo invasive surgery, this doesn't mean you don't have options for facial rejuvenation. Some fantastic, non-surgical skin tightening options can lift, tone, and rejuvenate your skin for stunning, youthful results.
Radiofrequency Face Contouring
Both AccuTite® and FaceTite® utilize the power of radiofrequency (RF) to lift, contour, and tighten skin. RF technology can also reduce or soften fat deposits, helping smooth and tone problem areas underneath the chin. RF therapy works by gently heating up specific layers of the skin, which induces collagen production and tightens lax skin. This can improve facial contours, sculpting areas of the face for greater definition. As new collagen gradually increases, textual irregularities such as fine lines and wrinkles reduce for younger, more glowing skin.
FaceTite®: This RF treatment will be performed under IV sedation for optimum comfort. The device handpiece treats the skin underneath and above the surface through tiny, localized incisions.
AccuTite®: This is a very similar treatment, except the device is even smaller than FaceTite®, allowing for the most precise application for small, sensitive areas of the face, such as under the eyes.
Both procedures require minimal downtime or recovery, with a much lower risk of scarring than alternative methods.
The Pros and Cons of Radiofrequency Face Contouring
RF treatments improve facial skin sagging, laxity, and textural irregularities. Unlike facial surgery, however, these procedures induce collagen production, which is crucial for skin health and textural concerns.
Your plastic surgeon may recommend these options if you only have mild concerns or are looking for preventative treatments.
Interested in Skin Tightening Treatments in Birmingham, AL?
The best way to find out which treatment is best for you is to schedule a consultation with our knowledgeable plastic surgeon at Cohn Plastic Surgery in Birmingham. Call us today at (205) 590-9900 to see how we can help you tighten, tone, and lift your skin for a rejuvenated look!