Will My Breast Reconstruction Results Look Natural?
Posted July 31, 2023 in Breast Reconstruction
5 Minute Read:
Undergoing a mastectomy is significant, not only because it is a part of breast cancer treatment but because a woman's breasts are often an integral part of her femininity.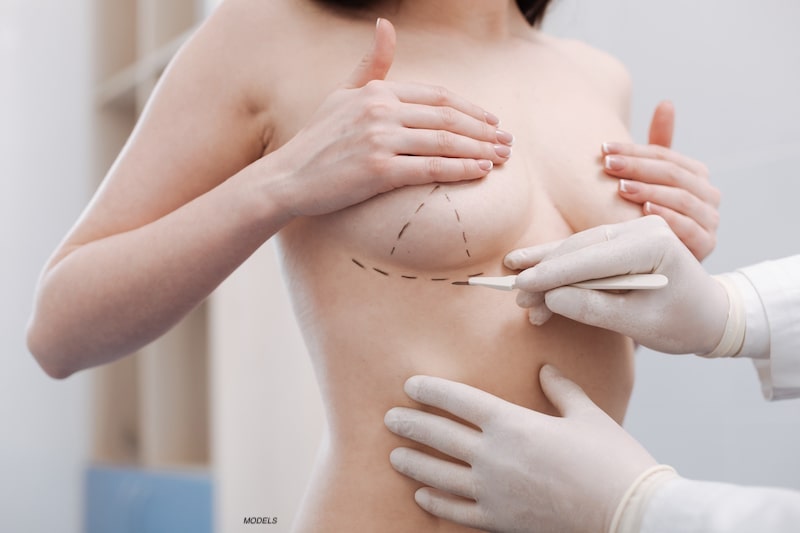 Deciding whether to undergo breast reconstruction requires significant thought and discussion with your plastic surgeon and oncologist. Among the many questions and concerns associated with both cancer and reconstruction treatment, many patients want to know if their reconstructed breasts will look and feel natural.
At Cohn Plastic Surgery, we understand that breast reconstruction can be an emotional decision and, in some cases, a decision that needs to be made quickly. Dr. Cohn is highly trained and experienced in breast reconstruction methods and is here to walk you through the process from start to finish.
Types of Breast Reconstruction Surgery
Over time, plastic surgery procedures for breast reconstruction have evolved, allowing surgeons to restore a more natural-looking profile than in the past. Dr. Cohn uses several techniques for breast reconstruction and will help you determine which method will give you the best possible results. 
Nipple-Sparing Implant Reconstruction
Nipple-sparing implant reconstruction is performed in two stages. The first stage typically begins with your mastectomy, where a tissue expander is placed in the breast pocket where your breast tissue was. The expander gradually stretches the skin to accommodate a breast implant, which is placed when ready.
Non-Nipple-Sparing Implant Reconstruction
This procedure is performed the same way as nipple-sparing implant reconstruction; however, the nipple is removed during the mastectomy. After reconstruction, you may opt to have nipples reconstructed and then tattooed onto your breasts for a more realistic look.
Non-Nipple-Sparing Latissimus Flap Reconstruction With Tissue Expanders
This type of reconstruction also requires a tissue expander and uses tissue from the latissimus muscle in the center of your back. The muscle tissue creates a pocket for the tissue expander and, eventually, the breast implant. You may also choose nipple tattooing with this procedure, as well as nipple reconstruction or fat grafting for a more natural appearance.
Non-Nipple-Sparing TRAM Flap
This reconstruction method uses tissue from your lower abdomen to sculpt your breasts without an implant. The tissue is harvested from your transverse rectus abdominis myocutaneous (TRAM) and is a good option for women who are not candidates for implant reconstruction.
What Will My Reconstructed Breasts Look Like?
The overall appearance of your reconstructed breasts depends on several factors, including the type of reconstruction you choose and whether you get immediate or delayed reconstruction.
While Dr. Cohn strives for perfection, you must manage your expectations and understand that there are often limitations when performing reconstructive surgery.
Shape
The shape of your breasts is determined by whether you choose reconstruction with implants or your own tissue. If you choose a saline implant, they often appear rounder than your natural breasts, whereas silicone implants are typically contoured and provide a more natural look.
What type of implant you receive depends on your chest structure after mastectomy and cancer treatment. The implants are placed under the pectoral muscle, which may also make them appear rounder and flatter than you're used to.
If you choose to undergo tissue flap reconstruction, be aware that the recovery time is a bit longer than with implants, but the advantage is that it offers more options for sculpting and fine-tuning the shape of the breasts.
Size
When undergoing breast reconstruction, you can choose the size of your new breasts. You may opt to keep them close to the same size as your original breasts or go up or down in size. Remember that the size of your breasts will depend on what method of reconstruction you undergo and your build.
If your reconstruction uses tissue from your own body, the size of your breasts is limited by the amount of excess fat available in your stomach, back, or buttocks for use in sculpting the breast. If you undergo reconstruction with an implant, your size choices are broader.
Symmetry
Most women don't have perfectly symmetrical breasts; however, they may expect more from breast reconstruction. Removal and reconstruction of both breasts make it easier for your new breasts to appear symmetrical while removing only one breast makes the task much more difficult.
Whether you need bilateral or unilateral reconstruction, Dr. Cohn will work with you to ensure your results are as beautiful and natural as you want.
Scarring
Scarring is an unavoidable side effect of mastectomy and reconstructive surgery. While scars may be red and noticeable initially, they fade considerably over time. If you undergo immediate reconstruction, the scars from your mastectomy can often be camouflaged. However, if you choose to wait for reconstruction, no matter how good the reconstruction may be, it's almost impossible to completely get rid of mastectomy scars.
If you undergo flap reconstruction, you will also have scars at the sites where tissue is removed.
Once your scars have healed, you can help lessen their appearance by using silicone sheets, massaging them to break up the tissue and make the scar appear flatter, and applying scar creams or gels. For more prominent scars, you may undergo chemical peels or laser resurfacing treatments.  
Learn More About Breast Reconstruction in Birmingham
If you have undergone a mastectomy or have been told you need one, let Dr. Cohn help you reclaim your confidence and feelings of femininity. His extensive experience and expertise in breast reconstruction ensures that you will leave his care feeling physically whole again and looking as beautiful as ever with your reconstructed breasts. Call us today at 205-590-9900 to schedule a consultation or complete our online contact form.