Understanding the Ingredients of Your Injectable Treatment
Posted May 01, 2019 in Injectable Treatments
Many individuals experience frustration with the development of fine lines, wrinkles, and facial volume loss, but may not be interested in, or feel ready for, cosmetic surgery. Injectables are non-surgical treatments that improve the appearance of visible aging and restore facial volume to help patients achieve more youthful-looking facial contours.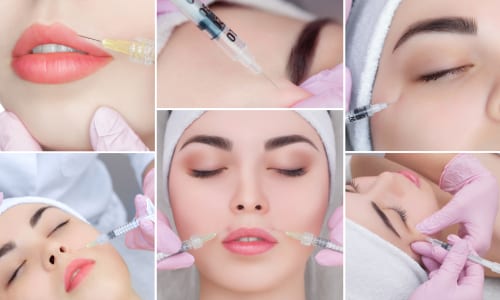 Hyaluronic Acid
Many dermal fillers are made of hyaluronic acid. Hyaluronic acid is a compound found in our connective tissues that creates fullness. It is responsible for maintaining moisture levels by increasing water retention in the skin and delivering nutrients. When the skin is hydrated, it looks rejuvenated and feels soft. Dermal fillers such as JUVÉDERM®, Restylane®, and Perlane® contains a synthetic form of hyaluronic acid that plumps tissues and minimizes the appearance of wrinkles, lines, and nasolabial folds while also being able to add volume to the lips and cheeks. Hyaluronic acid dermal fillers are ideal for static lines, which are wrinkles and folds that are present even when the face is at rest.
Synthetic Calcium Hydroxylapatite
Synthetic calcium hydroxylapatite is the active ingredient in RADIESSE®, a filler that improves facial wrinkles and folds, plumps thinning lips, and restores vibrancy to aging hands. This material is sterile and highly biocompatible with facial tissue. The synthetic calcium hydroxylapatite found in RADIESSE® is suspended in a gel substance that will eventually break down and be replaced by collagen.
Poly-L-lactic Acid
Poly-L-lactic acid is a biodegradable and biocompatible synthetic polymer that helps the body rebuild collagen. By stimulating the production of collagen, the poly-L-Lactic acid found in Sculptra® Aesthetic allows for the long-lasting improvement of nasolabial folds, marionette lines, and chin wrinkles. Results from treatment with Sculptra® Aesthetic can last up to two years, much longer than many of its fellow fillers.
Lidocaine
Lidocaine is one of the ingredients found in PREVELLE™ Silk and several other dermal fillers. Lidocaine is a medication commonly used to numb tissue. While not the main ingredient, the lidocaine found in PREVELLE™ Silk allows the injection to be given without any additional local or topical anesthetic and typically results in less post-injection bruising and swelling. PREVELLE™ Silk reduces moderate to severe facial lines and folds.
Botulinum Toxin Type A
Botulinum toxin type A is the active ingredient found in BOTOX® Cosmetic. This neurotoxin is a sterile derivative of the same toxin that leads to botulism; however, the strain used is inactive and the amounts used are safe. Unlike the materials in dermal fillers, botulinum toxin does not plump tissues to diminish lines and wrinkles but instead blocks nerve signals to relax the muscles responsible for dynamic lines. Dynamic lines are the wrinkles caused by muscle contractions such as those caused by facial expressions. These lines include frown lines, crow's feet, and forehead lines.
To learn more about any of these injectable treatments, contact Dr. Cohn by calling (205) 590-9900 or by filling out our online contact form.
*The image in this blog is a model and not an actual patient.