7 Ways to Tighten Skin After Weight Loss
Posted February 01, 2023 in Skin Laxity, Skin Tightening
4 Minute Read:
Exercise, eating healthy, and bariatric surgery are all ways that help us lose those extra pounds so that we can feel better about ourselves and get the most out of life. The frustrating part is that weight loss of any kind, especially significant weight loss, can leave us with sagging skin on our bodies, including around our midsections and in our arms and legs.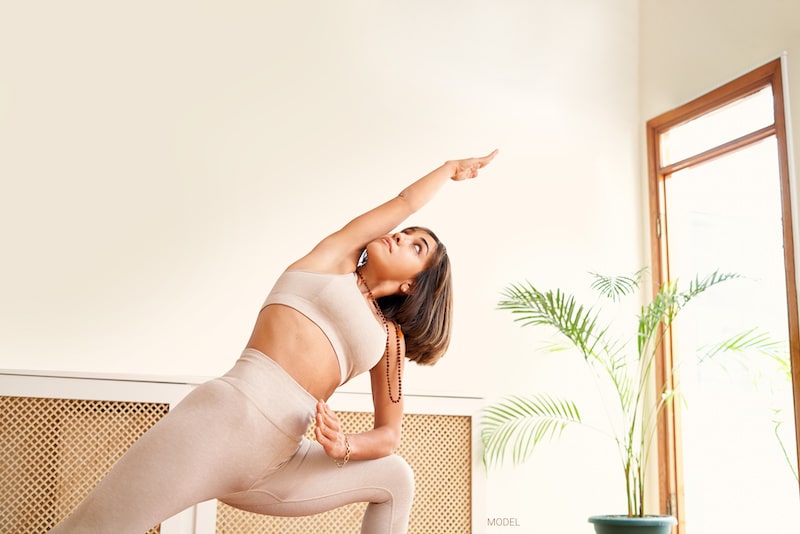 However, every one of us is affected by post-weight loss sagging skin in different and unique ways.
Because of this, the right plastic surgery procedure(s) to tighten skin after weight loss can vary for each individual. Here are seven of the most effective ways to tighten skin after weight loss.
1. Breast Lift
A significant portion of women's breasts are made of fatty tissue. So, when women lose fat in their bodies (whether naturally or with the help of weight loss surgery), the size and shape of the breasts can be negatively affected. This can result in sagging breasts, especially in older women who have less elasticity in their skin.
Breast lift surgery (mastopexy) can help lift your breasts to a higher, perkier, and more youthful position, which can help improve your overall feminine appearance.
2. Breast Reduction
Many women suffer from overly large breasts, which can be frustrating and painful (on the back and shoulders). Even after significant weight loss, large and burdensome breasts can remain, and they can even be accentuated (if weight is lost in the midsection).
Breast reduction surgery can help remove stubborn fat and excess glandular tissue in the breasts to give women breasts that are more balanced to their overall physique. After this procedure, women can enjoy being more active with their trim body and smaller breasts.
3. Tummy Tuck
The midsection is the most common area for women and men to have sagging skin after weight loss, and it can detract from your amazing weight-loss results.
Tummy tuck surgery (abdominoplasty) can help you get rid of unwanted sagging skin, and it also includes other benefits, such as tightening abdominal muscles. What makes this surgical procedure even better is that it can be customized to your specific needs, so a mini tummy tuck can be performed if you require minimal correction, or an extended tummy tuck can be performed if you need more significant tightening.
4. Arm Lift
Sagging skin can accumulate on the underside of the arms to give the appearance of flabby "bat wings." This can be really frustrating and embarrassing for many people and can keep them from wearing certain clothing.
Arm lift surgery (brachioplasty) can be performed to remove this excess skin to give you the toned arms you desire.
5. Thigh Lift
Similar to an arm lift, loose skin can result in the thighs after significant weight loss. This flabby skin can hide many of your awesome weight-loss results.
Thigh lift surgery is a procedure that surgically removes this excess thigh skin to give you sleeker, more sculpted legs that you'll be excited to show off.
6. Lower Body Lift
For patients who experience sagging skin on their legs and their backside, a lower body lift can be performed.
During this procedure, excess fat in the area can be removed and your skin will be tightened to give you a sleeker and more toned figure that you can feel proud of.
7. Belt Lipectomy
Women and men who have undergone extensive weight loss may have significant loose and sagging skin to their entire mid-and lower body, including the tummy, hips, thighs, and buttocks.
With a belt lipectomy procedure, fat will be removed, the abdominal muscles will be tightened, sagging skin will be excised, and the remaining skin will be tightened to give you a more slender and toned appearance.
Combining Procedures
Any of these cosmetic procedures can help women and men achieve the look they desire after weight loss; however, combining procedures can allow for even more dramatic results. One example is breast lift and reduction.
During your consultation, Dr. Cohn can help you decide which procedure or combination of procedures will offer you the best results. 
Want to Learn More About Post-Weight Loss Surgery Birmingham, AL?
If you are interested in getting rid of loose and sagging skin after you lose weight, make sure to contact Dr. Cohn today. You can call us at (205) 590-9900 or use our online form here.