How Common Is Plastic Surgery for Men?
Posted December 29, 2022 in Male Plastic Surgery
5 Minute Read:
Many people mistakenly believe that plastic surgery is meant only for women. However, that cannot be further from the truth.
In reality, men struggle with many of the same aesthetic frustrations as women, and like women, men can turn to cosmetic surgery to improve their aesthetic appearance and help them feel more confident and comfortable with how they look.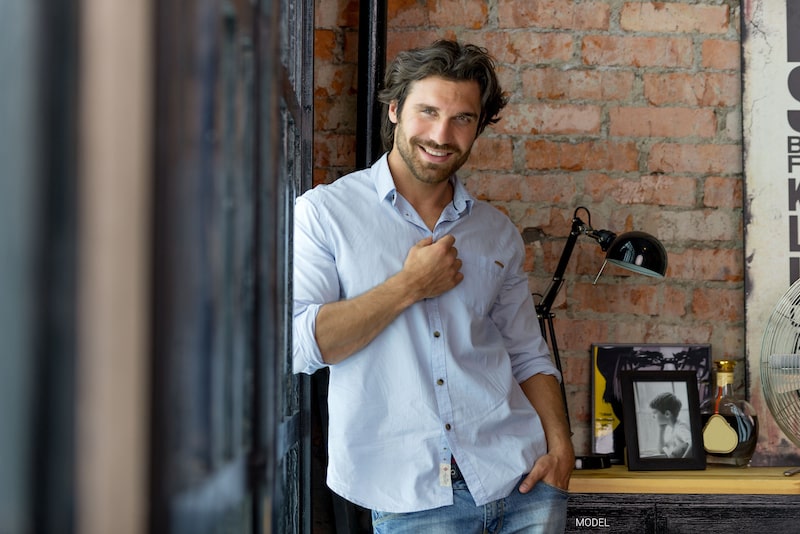 Numerous cosmetic procedures and treatments are available that men can undergo to help rejuvenate their appearance.
This blog will explore some of the most common and transformative plastic surgery procedures for men to help you understand what plastic surgery can help achieve!
Gynecomastia Surgery
One of the most common cosmetic conditions for an overwhelming number of men is gynecomastia (enlarged male breasts).
While our view of the "manly" physique is one that includes a strong and defined chest, gynecomastia creates soft and sometimes sagging breasts in men. Having this can severely affect a man's sense of confidence and self-esteem. Fortunately, gynecomastia surgery can help.
Gynecomastia surgery is a cosmetic procedure that helps correct male breasts. This is achieved in two different ways: liposuction, which removes fat in the target area, and surgical removal of excess breast tissue.
For men who suffer with more severe gynecomastia, excess skin can be removed, and the nipples can be repositioned. After the procedure, many male breast reduction patients feel more confident with their masculine chest aesthetic.
Liposuction
Liposuction is one of the most versatile plastic surgery procedures available to both men and women. That is because liposuction can be performed as a standalone procedure, or it can be added to numerous other procedures to help give a trimmer and more defined aesthetic.
In fact, liposuction plays a major role in many procedures, such as gynecomastia surgery (as noted above) and tummy tuck surgery!
For men, liposuction can help remove subcutaneous fat in numerous areas of the body, including the abdomen, chest, hips, upper arms, love handles, and more.
For this procedure, small incisions will be made in the target areas. A thin tube called a cannula will be inserted through these incisions to loosen up stubborn fat.
Once this fat is loose, it will be suctioned out of the body through the cannula. Not only is the fat permanently gone after a liposuction procedure, but men can achieve a more contoured and sculpted appearance to their bodies.
Facial Procedures
One of the most common areas to show the negative effects of age is the face. Some of these age-related cosmetic concerns include wrinkles and fine lines on the face and neck as well as skin laxity and sagging skin on the face and neck (including the dreaded "turkey neck").
While these conditions can cause men to feel self-conscious about their appearance, facelift surgery, neck lift surgery, and brow lift surgery can help men restore the masculine and contoured facial appearance they've been missing.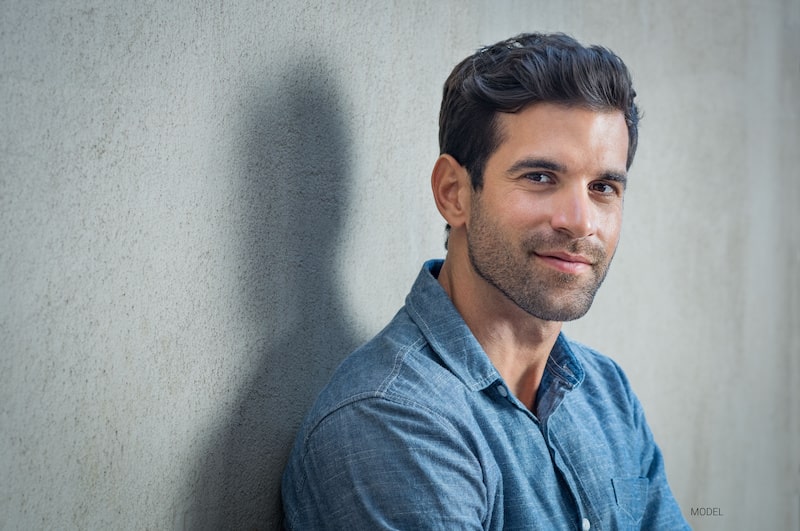 Facelift
For facelift surgery, discreet incisions will be made on the contours of the face and in the hairline. Facial tissue and skin is removed or repositioned to create a more balanced appearance to the face. The remaining facial skin will be pulled tight (but naturally) before the incisions are closed.
This procedure can reduce the presence of skin folds on the face while creating a more contoured and youthful facial aesthetic.
Neck Lift
Similar to a facelift, neck lift surgery can help men achieve a more defined and contoured neck, along with improving the appearance of jowls.
For this procedure, incisions will be made behind the ears and on the upper portions of the neck. Liposuction may be used to remove excess fat in the neck (the double chin).
Dr. Cohn will then tighten the underlying tissues and remove excess skin before closing the incisions.
After a neck lift, men can look forward to tighter, firmer skin on the neck as well as improvement to neck banding and less fat underneath the chin.
Brow Lift
One of the most common misconceptions about facelift surgery is that it addresses the entire face. Instead, a facelift only offers correction to the lower two-thirds of the face (from the cheeks to the neck).
So, if a man struggles with cosmetic concerns in the upper face (from the eyes to the hairline), they will need to have a brow lift (forehead lift). This procedure can help correct sagging skin in the eyebrows as well as wrinkles and lines on the forehead that make men look older than they are.
There are several different techniques that can be used for a brow lift, including the temporal brow lift (to address the outer part of the eyebrow) and endoscopic brow lift, among others. The specific technique used will be determined at the brow lift consultation and is dependent on the extent and type of correction desired.
After the incisions are made, forehead tissues are tightened (helping to raise the eyebrows), and excess skin may be trimmed (unless an endoscopic brow lift is performed as this does not allow for skin removal).
Lastly, the incisions will be closed, and the patient will be able to begin the recovery process. Once the results become finalized, men can look forward to a more youthful appearance to the eyes and skin on the upper face.
Interested in Learning More About Plastic Surgery for Men in Birmingham, AL?
If you are interested in male plastic surgery or if you have any questions about the procedures we offer, make sure to contact Dr. Cohn today. You can call us at (205) 930-1600 or use our online form here.